Today we point out 8 reasons why Portugal has become so popular in the last few years, not only in relation to tourism but also as a great place to live and gain a new passport.
A country of surprising history, and hidden secrets within it, Portugal was not famous in recent decades. So one wonders why Portugal became popular so fast in recent years.
Read 11 Reasons to Move to Portugal in 2022 from India.
However, this small country situated on the western coast of the Iberian Peninsula, Portugal is becoming the most visited country in Europe. It is a tourist attraction for an infinite number of reasons.
Talk about beaches, traditional cuisine, soccer, lively people, idyllic climate, affordable travel costs, and exceptional landscape it's not only becoming a tourist spot. Rather a lot of people are thinking to move and settle into Portugal permanently.
From the landscapes you saw to the sights you view, the food you ate, to the waves you rode, Portugal is one of the finest places in Europe to both visit and settle in.
Also Read Safest Countries in the World 2022, Portugal Ranks 3rd and Canada is 6th !!
Let's have a look at a variety of other reasons for Portugal becoming extraordinarily popular from an underrated country in the European belt.
Spectacular landscapes
From the rocky and towery mountains in the north to the spectacular beaches in the south, Portugal is enriched with the places that usually don't turn up on the maps but are there as a hidden secret for all the tourists to have a visit and explore the delightful beauty of nature.
Old fashioned charm with contemporary sophistication, Portugal is both classic and distinctly modern. It's a paradox that attracts visitors from all across the globe.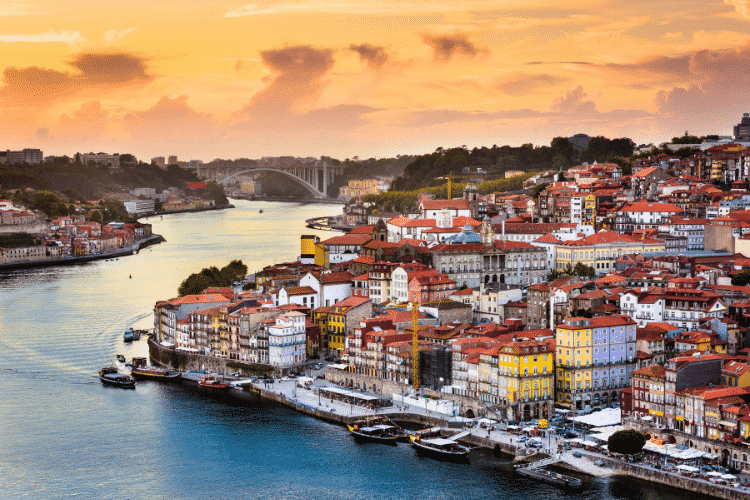 The country's iconic cities are where modern life buzzes with the ancient landscapes referring to the past. Like in the city of Porto, which you can admire in the picture.
From amazing scenes from the top of the mountains to the largest underwater world, Portugal is unique in every sense.
Portugal has a variety to offer to its visitors, from the oldest bookstore in the world to Europe's largest bridge.
From hidden cities' secrets to the shores of the noisy water striking the surface will leave you in awe.
Idyllic climate
One of the major reason people choose Portugal over any other European country is its uniform weather throughout the year. Especially on the Algarve coast, southern Portugal.
Most of the EU countries experience extreme hot to extreme cold conditions. While on the other hand, cool sea breezes in summers and pleasant comparatively warm wet winters make Portugal a desirable place for all the expats and tourists to visit and settle in Portugal.
Traditional Cuisine
One of the prominent factors of Portugal's popularity is its simple and delicious cuisines.
Be it seafood, meat, or vegetables, the food is relatively simply cooked following the basic ingredients rather than complicated sauces used in its neighboring countries like France, Italy, or Spain.
Moreover, Portugal is highly affordable when it comes to food.
One unique feature of Portuguese cuisines is a seasoned food. They cook what is in according to the season.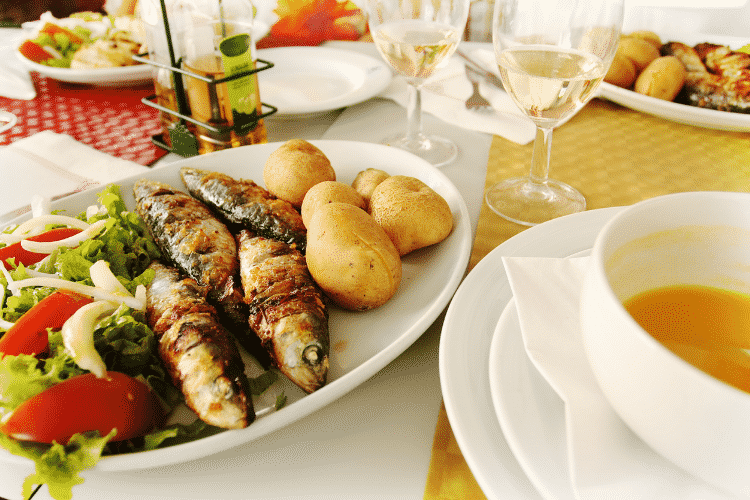 One of the specialties of Portuguese food is potatoes cooked in a variety of ways. Pastéis de Nata is the signature Portuguese dessert, an egg tart pastry dusted with cinnamon.
Other famous Portugal cuisines include Bifana, Bacalhau, Squid, and Sardines.
As for drinks, Portugal is known to be one of the world's biggest consumers of wine per capita.
Portugal's most famous export is wine which is known to be the national drink also.
Moreover, the world's oldest wine-producing region and a candidate for UNESCO World Heritage Site is the Douro Valley is another popular feature for Portugal.
Language
One of the reasons for Portugal's popularity is its native Portuguese language which is known to be the official language of nine other countries.
Having 220 million native speakers of this language, it's the sixth most spoken as a first language.
It's a curious fact about Portugal, which attracts many Brazilian expats to the Old Continent.
Read Portugal's Golden Visa is going nowhere. Government rejects ending golden visas.
Soccer
Every time we think about Portugal, the very first thing that comes to mind is Cristiano Ronaldo.
Football might be the popular sport played in Portugal but Cristiano Ronaldo has become a brand associated with football representing Portugal all across the globe.
Even interested in soccer or not the whole world recognizes him.
Apart from him, Portugal is known to produce great players of all times on the Soccer field. Eusébio, Luis Figo, Paulo Sousa, and Paulo Future are some of the greatest names in the history of Portugal soccer.
Standard of living
With such a growing and confident economy, Portugal is known to be the hub for all the business tycoons and investors from all across the globe.
Innovations, talented people, leading companies are building it a new country and a startup hub in the whole of Europe.
The combination of good infrastructure and a high-quality economy with massive technology as compared to other parts of Europe makes Portugal quite attractive for starting a business and investing here.
The strong capability of exports, well-educated workforce, and low-cost base is an eye-opener for all the business starters to invest in Portugal.
Cost of living
Living in Portugal is highly affordable as compared to other parts of Europe.
From food to the residence, fueling to healthcare, Portugal offers you the cheapest rates comparatively.
Moreover, Airfares are relatively low and stopovers are free for domestic as well as international flights.
Music
Fado is known to be the soul of Portuguese music.
This specific genre was recognized and originated in Lisbon, the capital of Portugal, and is often played in Pubs, cafes, or restaurants, and other public areas presenting a soothing effect to the environment.
The Fado music contains the message of hope and the new beginning after going through the tough phase of life.
Bottom line
To wrap up, Portugal was nowhere in the past decades. But this small country with a low population was highly underrated.
In the recent past, it evolved as an ideal business hub for investors from all across the globe. The Portuguese economy is shifting to be confident and ever-growing.
Besides, Portugal is highly popular for its high quality of life and affordable access to almost every facility and even luxuries.
Nonetheless, the spectacular and mesmerizing landscapes and beauty add a lot to increasing the popularity of Portugal.
If you're interested in living in Portugal, make sure to contact us and one of our IMC Certified Consultants will set up a free consultation meeting with you.
Read Portugal is officially a millionaire hotspot !!
The reasons why Portugal became so famous can explain a bit why so many people are moving here. However, there are many more small details that you have to experience to understand.